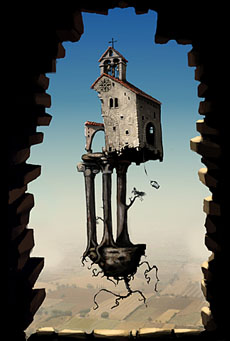 qmail
A mail transport agent I have had involvement in, in some small ways. I use modified versions of it on every mailing server I regularly administrate (that's about seven Sun Microsystems servers).
Rules to Frustration (as zip)
My favourite card game. This seems to be a somewhat uncommon game, so I have placed the rules online. In RTF format so most anyone can read it. It lives up to its name. Click here for a Koffice version.
My chili recipe and my fudge recipe. Both of which I am very fond of, and quite good at, if I say so myself. Try them out, and see what you think.
KOSd (Click to Download - 105K)
This is a modified version of Ascend's RADIUS daemon in use at my company. It isn't radical, it simply supports regular/BSD GECOS password files rather than a system's /etc/passwd file - great for segmenting email from dial users at ISPs. Never tested with Livingston or Cisco - the dictionary file may be the only change. Let me know! Thanks to Cris Phillips who did the actual coding changes.
Steve is into racing his car, as you may have noticed. Please check out his sponsored Racing Page and take the polls! It helps him show the sponsors that there is interest in his racing efforts.
Various web pages, database technologies, et al for my companies. See Stuff & Miscellaneous.
Ponderings.Org
A much upscaled version of the Thoughts page on my web site, which will debut sometime in January, 2004.
Quinte, Lennox/Addington and Prince Edward County community web sites. Lennox since sold out to a lesser quality and lesser priced company, which I have no affiliation with - the quality of my work (guestbook, search engine, et al) has largely been destroyed.
I did a number of tasks for these web sites. I particularly liked working on these sites because it's a way of giving back to the community. I grew up in Picton, and it treated me pretty well, so I enjoyed working on some of the Prince Edward County projects particularly.
Kingston Online Services
I did most of the projects on this web page including much of the documentation. Perhaps 85% of what's there was mine. In the last year or so I have had less involvement. I is due for an interface overhaul one of these days soon. I started this company in 1993 with my friend Meredith. So far, it's been good to me.
Cantech Solutions
I did all the content for these pages. The frames layout was done by Andrew Noury. It's getting an overhaul as things move forward. I do a lot of UNIX and network consulting for this company which I own a large stake in.